Most Saturdays I hike Mission Peak with a group of friends. Here are some more photos and a graph to give you an idea of the challenge.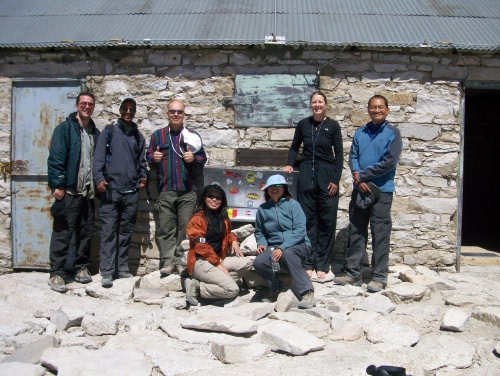 < One year we hiked Mt. Whitney: 6K' and 11 miles and you're only halfway - now you have to get back down!
I met so many wonderful people on this trip. The camp host at Tuolumne Meadows who told me to go 30 minutes to Lee Vining to get a shower instead of 90 minutes to the valley floor. Jeanette, the camp host at Whitney Portal, who switched me to a better campsite and told me not to worry about the bear in it - just shoo him off. My camp neighbor, Adolf, who hikes all the time at his home in the San Bernardino mountains, who has summited Whitney five times since having his hip replacement, and who advised me to get different boots "next time"(!) I do this. Adelle(?), the woman who operates the Whitney Portal store, who is full of stories and advice from many, many hikers. The Marine who urged me to the top while I urged him to the top. Mary and Ed, who stuck by me almost the whole way, even though they could have hiked faster. Clement and Tes, who summited early, came back down the trail at least twice to check on the rest of us, and waited at the top so that we could have a group photo. Catherine, who got us into this - Hey, who wants to hike Whitney? And Dana, who always stayed behind the last person in our group. Thanks a lot, everyone. It was a great trip.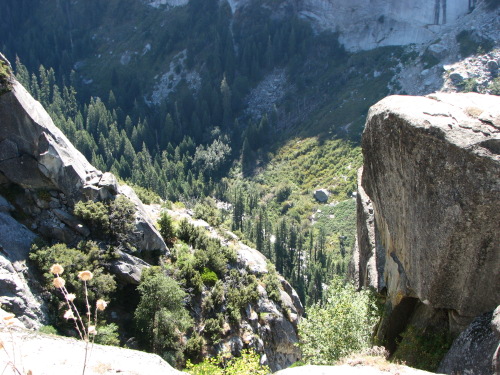 My daughter and I like to backpack in Sequoia National Park >
Here, the path is a ledge that is a meter wide maybe, at best. Behind me, the cliff wall rises just as steeply as it falls in front of me. Lone Pine Creek is far below.
My volunteer activities include:
Recent writing includes:
I am active in the OpenSolaris project, and most months you can find me at the Silicon Valley OpenSolaris User Group meeting.